Wladyslaw Slesicki Film Foundation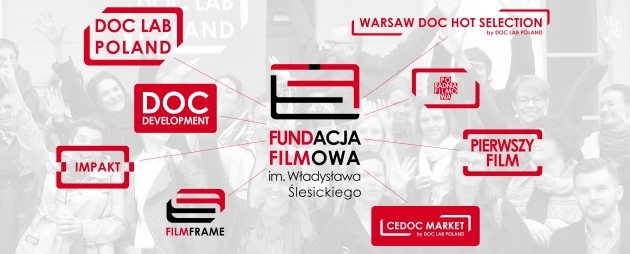 Wladyslaw Slesicki Film Foundation is the organizer of consultation programs and film project development workshops for directors and producers at various stages of their careers.
DOC LAB POLAND is organized since 2015 and is a program of comprehensive development of documentary projects in an atmosphere of partner discussion, addressed to producers and directors. The result of the six completed editions so far is approx. 150 developed or pitched projects, from which almost 50 films winning awards around the world have already been made. The event also includes open lectures during the Warsaw Film Festival. It is the largest program of this kind in Poland.
DOC DEVELOPMENT is a workshop for documentary projects at very early stage. The program is aimed for directors to give them a chance to find producers for their films.
The Foundation runs a FILM ADVISORY where you can individually consult an idea for a film.
IMPAKT is a comprehensive development workshop for film producers at the beginning of their careers. It prepares them for work in art house cinema and documentary. During the program, they develop the film project and learn how to negotiate, improve the script, form a budget, promote and distribute their film.
The Foundation's activities also include CEDOC MARKET (Central European Documentary Co-production Market) during the Krakow Film Festival. It is the only co-production meeting in Poland for producers who are looking for Polish and foreign partners. Every year, about 40 participants have over 400 individual meetings.
WARSAW DOC HOT SELECTION takes place in Warsaw from 2016. It is an annual event reviewing the most interesting Polish documentary films of recent years combined with meetings with filmmakers. Among the films shown at the previous editions were: "Wind. Documentary thriller" by Michał Bielawski, "Call me Tony" by Klaudiusz Chrostowski, "Prince and the Dybbuk" by Elwira Niewiera and Piotr Rosołowski, "Over the Limit" by Marta Prus, "Unconditional love" by Rafał Łysak. The event also includes open lectures on documentary film.
The Foundation also organizes FIRST FILM program in which young people prepare their first feature or documentary etudes under the watchful eye of experienced documentary filmmakers. FIRST FILM is based on a practical approach. The participants learn about various film professions.
The Foundation also runs FILM FRAME film production. The documentary "Fury" directed by Krzysztof Kasior is currently in production. FILM FRAME is also co-producing "Use your Voice" by Radka Franczak (co-production with Silver Frame) and the latest documentary by Agnieszka Zwiefka, entitled "Wika!" (co-produced with My Way Studio).